Xiaojian


Information
Title
Xiaojian
Gender
Male
Favorite Color
Light Green
Level
Boxing: Level ★10

Tennis: Level ★10

Baseball: Level ★10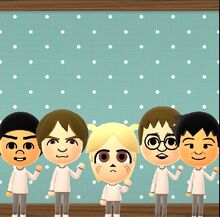 Xiaojian is a CPU Mii from Wii Sports Club and Wii Party U. His Total Skill Level is 310.
In Tennis, Baseball, and Boxing, he is a Pro, being at Grade ★10, making him one of the best players of the game.
In Wii Party U, Xiaojian is a Beginner Mii.
Trivia
You can earn his badge for making 250 edits on articles or for making 100 edits on Wii U articles.
His Japanese name is Sheaojien (シャオジエン).
Xiaojian is seen in Miiverse promotions.
He's Chinese.
In his Wii Party U artwork, he seems to be playing Safari Hustle.
According to the Miiverse loading screen, he is from Tokyo, despite being Chinese.
Although being a Beginner Mii in Wii Party U, Xiaojian is the Max Level in all the sports in Wii Sports Club.
Xiaojian is the best Beginner Mii in Wii Sports Club.
He and Xue-Ren are the only male Miis whose name starts with an X.
Gallery
Community content is available under
CC-BY-SA
unless otherwise noted.