If you're looking for Board Game Island Volcano in Wii Party, go to Volcano (Wii Party).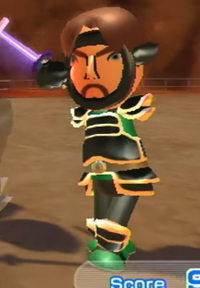 Volcano (Wii Sports Resort) is a stage in Swordplay Showdown. The boss in this stage is Gabriele. This is the tenth stage.
The next stage is Bridge Reverse.
This is a normal stage.
This stage has 70 enemies in it.
For the other stage, see Volcano Reverse.

This is the last normal stage. After this stage, a notification appears saying that you have unlocked a bonus level. That is the first reverse level, Bridge Reverse.
Miis
Gold Armor
Purple Armor
Black Armor
Black Armor Boss
Trivia
Community content is available under
CC-BY-SA
unless otherwise noted.