If you are an admin, vote on this

Hi there! I'm admin here! While it may not seem like it, I love Wii Sports and all the sports and training! My favourite is tennis (and I'm a pro), but I also like basketball and baseball. It is one thing I like doing, besides reading comics. I joined in February 2019.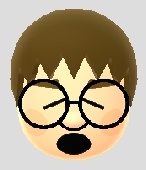 "Zzz..."
This user is currently on a low-activity hiatus. He is active on Fandom, but semi-active on here.