I'm Colin! I own Wii Sports Resort, Wii Play, Wii Party, and Wii Fit.
Trying to upgrade to a Wii U!!
Wii Sports / Wii Sports Resort Things
I used have a Wii Sports / Wii Sports Resort 2 in 1 disc but it sadly stopped working, and we got a Wii Sports Resort disc but no Wii Sports disc so I'm able to remember what the Wii Sports games were like but can not provide skill level information and such.
Rating every sport!
My memories of this sport are confused. I don't remember playing Wii Sports, mostly just wii sports resort, so I do not remember boxing nearly as much as other sports.
Seems fun tho. 7/10
Same case with Boxing. 7/10
I actually remember this one! I loved baseball! I wish I could still play it.
10/10
Boring
2/10
Fun, sometimes
7/10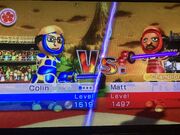 Showdown makes you feel so damn cool. Speed slice is great too, it's the first game I got Pro class in. Duel isn't as good as the others.
(Update: As I was making this, I checked my swordplay Duel skill level, and decided to play a few rounds. I was at 995 initially and ended with beating Matt... my duel ranking has gone up from 7 to 9)
Showdown: 9/10
Speed Slice: 8/10
Duel: 9/10
Overall: 10/10
It's pretty fun. Feels cool to get to 100 and do tricks.
7/10
Eh
6/10
Not for me...
6/10
Basketball is a great break from the frustration of swordplay.
9/10
TABLE TENNIS IS AWESOME!!!!!
10/10
1/10
0/10
A nice change of pace really. Still confused on the turning, though.
8/10
I love Island Flyover and Skydiving but I've never liked Dogfight.
In spite of Dogfight, 10/10
(as of Jul 6, 2020, 10:03PM EST)
Boxing
N/A
Tennis
N/A
Baseball
N/A
Golf
Wii Sports: N/A
Wii Sports Resort: 46
Bowling
Wii Sports: N/A
Wii Sports Resort: 164
Swordplay
Duel: 1536 (Pro Class) (Champion Beaten)
Speed Slice: 1178 (Pro Class)
Showdown: 2500+ (Maxed Out Superstar) (Stage 20 Beaten)
Wakeboarding
1511 (Pro Class)
Frisbee
Frisbee Dog: 128
Frisbee Golf: N/A
Archery
N/A
Basketball
3-Point Contest: 0
Pickup Game: 870
Table Tennis
Match: 822
Return Challenge: N/A (i know its there but i had to rush through these because i had to get off the tv)
Power Cruising
N/A
Canoeing
N/A
Cycling
114
Air Sports
Skydiving: 250
Island Flyover: 58/80 ⓘ
Wii Party Records
Beginner
20 Balanced (with Lucía)
Intermediate
20 Balanced (with Pierre)
Expert
20 Balanced (with Matt)
Balance Boat - Time Attack
Beginner
20 Balanced, 0.29.7 (with Asami)
Intermediate
20 Balanced, 0.30.0 (with Lucía)
Expert
20 Balanced, 0.31.1 (with Pierre)
Beginner
Stage 5 clear, 90 pts.
Intermediate
Stage 10 clear, 101 pts.
Expert
N/A (Quit at around 22)
2502 pts.
Stage 29 (pain)
2:08.4
Stage 2 clear
N/A
449 yd.
181 yd.
34 pts. (with Pierre)
23 pts.
0.22.1
0.22.4
682 yd. (with Pierre)
64 pts. (with Pierre) (and to think I thought it was impossible...)
Miscellaneous
Wii Party Ideal Line-Ups
(Miyu, Shohehi, and Nelly are fine as substitutes)
(Chris, Siobhán, and Ian are fine as substitutes)
(Ryan, Elisa, Oscar, Ren, and Ursula are fine as substitutes)
(Rin, Shinta, and Shinnosuke are fine as substitutes)
Pierre, Stéphanie, and Matt
(Lucía, Asami, and Sakura are fine as substitutes)
My Mii(s)!
Colin (Main)
Colin isn't my first Mii of myself, but it is the one I currently use today. There were a few other versions of this mii (that I will have images for below this.) They're all 3 different miis.
This is one of the first versions of me when I first got glasses. The colors of the glasses have changed over the years. The current version of me is on my Wii and my Nintendo Switch, but the other 2 are just on the Wii (though I had to recreate them on the switch to be able to transfer them to my computer)
the old ja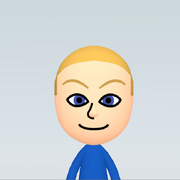 the old ja was my first ever mii. Though my real name is Colin I really liked the name "Jay" (mostly due to the bird, the Blue Jay and the Fetch! with Ruff Ruffman Season 5 contestant) so that's what I named my mii.
Nothing too interesting about this one, except for he's the only one of my miis that have something rotated on their mii. (his eyes)
He was nicknamed "Jay" until I made the next mii of mine...
Lukas
Lukas has a mole.
I do not have a mole in real life. The mole is a reference to an inside joke within my family.
The name comes from when I started liking the name "Lukas" instead of Jay. Why? No idea.
No interesting or fun facts about him either. One of these was probably named "James" along the line, actually...
Ships
Just kidding! I have none. I think it's a bit weird to ship the CPU Miis, but it's fine if you do.
Headcanons
Also none of these.
It's a sports game.
Top 5s!
Top 5 Favorite CPU miis
5. Cole
Cole was the first table tennis opponent and the first boss, which reinforces him in my memory quite a bit. Looks cool and inspired the appearance for a LOT of my miis when I was young.
4. Lucía
Table Tennis champ, a pain in the ass in showdown, so why is she here? Idfk tbh
3. Luca
Luca isn't anything too special. He's not a swordplay boss, he's not a pro in any sport, and he's standard difficulty. But he looks cool. He's growing on me.
2. Michael
I have no idea why!
When I first lost my Wii Sports + Wii Sports Resort 2 in 1 disc, I started looking through different miis on the wiki, saw Michael, and he became my favorite. Why? He looks cool. But he does do well in some sports. He's grown on me like Luca.
1. Pierre
Wait no don't leave there's actually a good story for this one
I was playing balance boat (I think I was maybe 9, 10 at the time) and Pierre was the other person in the pair.
I thought he looked so cool, so I made a mii that kinda looked like him, called it "Daniel", and played balance boat again with Daniel as my mii and of course, paired up with Pierre. A few of my records come from the Daniel mii.
I have this distinct memory of losing in Pump Cart Panic with Pierre because I had no fucking idea what to do.
I've said this with Luca and Michael but Pierre has grown on me.
iPoints Map
Tomodachi Life