LilGreenYoshi is an Administrator
An administrator is an enforcer of the wiki's policies, taking an active role in and combating vandals. They have a number of abilities to aid them in this task, such as protecting pages and blocking users. Please use their message wall if you need their help. If you were blocked by them, please contact them on Community Central.

At some point I'm gonna make a tier list with all of the gen 1 cpu Miis, but for now, I'm just gonna list some of my favorites.
My favorite CPU miis from gen 1!
My thoughts on all the sports in WSR
Swordplay: My absolute favorite! By FAR! Especially showdown, I could play that all day!
Wakeboarding: Got pretty good at the beginner level. Nice sport to play every so often!
Frisbee: Fun to play every once and a while.
Archery: Never really got into it, still really fun though!
Basketball: Fun, but it can be pretty intense.
Table Tennis: Once I learned about 11 point matches, I never looked back. On top of it being soooo satisfying destroying Lucía! Return challenge is a nice change of pace as well!
Golf: Meh, pretty boring imo
Bowling: I was one of those people that abused the gutter guard trick in 100 pin. Getting to max level in  10 pin was a nice challenge.
Power Cruising: Meh, never got into it. Didn't really hold my attention.
Canoeing: Oh god please no... Never again...
Cycling: Really fun time! Gets me pretty sweaty sometimes lol
Skydiving: Meh.
Island Flyover: Getting all the I points was really fun... until I only had one more. Then white balloons... Then I was just mindlessly looking around.
Click the button below to view all of my skill levels and records!
(WR) = World Record, VR = Versus Rating, BR = Battle Rating
LilGreenYoshi


Information
Title
ģяεεиγоςнı
Gender
Male
Favorite Color
Green
Level
Tennis (WSC): Level ★10

Tennis (WS): 2399

CPU Rank
{{{cpu rank}}}
My Skills
Tennis: 2399 (PRO) (WR)
Baseball: 2230 (PRO)
Bowling: 2213 (PRO) (WR)
Golf: 722
Boxing: 3124 (PRO) (WR)
Training (Wii Sports)
Hitting Home runs: 10 home runs (5554 ft)
Swing Control: 60 points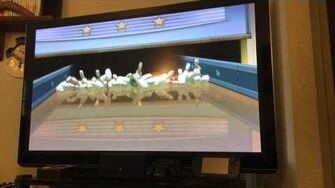 Batting Practice: 30 hits (WR)
Picking Up Spares: 20 Stages (Misses: ???)
Power Throws: 890 points (WR)
Spin Control: 20 stages (Misses: 0)
Golf:
Putting: 10 points
Hitting the Green: 136.2 ft
Target Practice: 600 points
Returning Balls: 233 points
Timing Your Swing: 61 points
Target Practice: 91 points
Working the Bag: 44 points
Dodging: 99 points
Throwing Punches: ??? points
Swordplay Duel: 2500 (SUPER STAR) (WR)
Swordplay Speed Slice: 2500 (SUPER STAR) (WR)
Swordplay Showdown: 2500 (SUPER STAR) (WR)
Wakeboarding: 2063 (SUPER STAR)
Table Tennis: 2500 (SUPER STAR) (WR)
Return Challenge: 2500 (SUPER STAR) (WR) Record: 999 Pts. (WR)
Archery: 606
Basketball: 1700+ (PRO)
Bowling: 10 Pin Game: 2500 (SUPER STAR) (WR) Record: 300 (WR)
Bowling: 100 Pin Game: 2500 (SUPER STAR) (WR) Record: 3000 (WR)
Tennis: Level ★10 (WR)
Baseball: Level ★3
Boxing: Level ★9
Bowling: Level ★2
Golf: Level 1 (I don't play golf)
Wii Party U
Close Knit: 356 in (WR)
Safe Landings: 0.00 seconds (WR)
Super Snow Sliders: 84 yd
Cliff Riders: 100 yd (WR)
Ice Spinners: 49 (WR)
Mii Vaulters: 204 yd 
Twisted Flight: 65 yd
Super Mario Sunshine
Speedrun Times:
Any%: 1:26:12
All Blue Coins: 2:40:54
10 Shines: 9:34
Ricco Harbor: 8:57
Noki Bay: 10:22
Coin Counts:
Ricco Harbor: 149 coins (WR)
Pinna Park: 999 coins (WR)
Sirena Beach: 114 coins
Noki Bay: 151 coins
Pianta Village: 147 coins
Delfino Plaza: 999 coins (WR)
Mario Kart 7
Rank: 3 stars (WR)
VR: 12509
Wins: 6424
Losses: 3983
Coins Collected: 32188
Best Time Trial: GCN Daisy Cruiser 01:19.373
Mario Kart 8 Deluxe
VR: 5150
Coins Collected: 50039
Best Time Trial: GCN Sherbet Land (200cc): 01:20.273
Super Mario 3D Land
Rank: 5 Glittering Stars (WR)
Star Medals: 360
Lives: 1110 (WR)
Lives Lost: 16
Super Mario Galaxy 2
Total Stars: 242 (WR)
Total Star Bits: 19998 (WR)
Total Coins: Around 2830
Lives Lost: 602
Streetpass Mii Plaza
Streetpass Tags: 2219
Plaza Population: 2987