Hilvi Haslbäck is an Administrator
An administrator is an enforcer of the wiki's policies, taking an active role in and combating vandals. He has a number of abilities to aid him in this task, such as protecting pages and blocking users. Please use his message wall if you need his help. If you were blocked by him, please contact him on Community Central.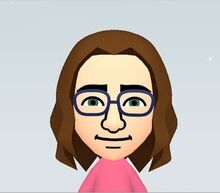 Wii Sports, Wii Sports Resort and Wii Party are part of my childhood. And I got Wii Party U. (Blue = My All-Time Favorite)
My YouTube Channel: ☀https://www.youtube.com/channel/UCjIlkJJkyjWOTj_KYeHFMfA
My Opinion Miis
Wii Sports & Wii Sports Resort
I like every Mii, but I'm not sure, if I like Giovanna or not. :/
My Fav.: Tommy, Hiromasa, Eva, David, Shinnosuke, Alex, Nick, Anna, Miyu, Yoko
Wii Sports Club
I like every Mii too! :>
My Fav.: Chris, Enrique, Hee-joon, Alice, Anne, Jeff, Daisuke, Jianjun, Maximilian, Jesús
Outside Wii Sports series
I like every Mii too! :>
My Fav.: Ray, Cory, Don, Naz, John, Marsha, Mia, Naoko, Ross, Donna
Special Badge
Pit's Badge (Platinum) - 116/365 (31.78% complete)
Gerald's Badge (success) - December 24th 2019 (By adding Total Skill Level for all 111 Wii Sports Club Miis)
Lucky Haru's Badge (success) - February 21st 2020 (104,000th Edit)
Community content is available under
CC-BY-SA
unless otherwise noted.