Not to be confused with Saucer Snap or Smile Snap.
Snap Judgement

Information

Game:

Wii Party U

Type:

2-4 players, Freeplay

Instructions:

"Quickly determine which signs the Mii character in the center is holding up. Raise a different sign to earn points! The player with the most points wins."
Snap Judgement is both an All-Play Minigame and a Freeplay Challenge Minigame in Wii Party U.
Gameplay
The player(s) must select any sign that is different then from the purple Mii in the middle. If any player makes a mistake, the game will continue on that round until ten rounds have passed. After all the rounds are over, whoever got the most points wins.
Note: If the player (s) choose their sign too late, the end of the round and their lifting sign animation will intersect, but they will not get anything.
In Spot the Sneak, the Sneak can press the B Button to pull up the correct sign.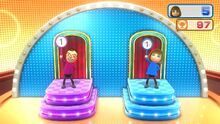 Unlike the All-Play version, instead of 10 rounds, it goes up to 100 rounds, and the player is disqualified for the first mistake they make. After 20 rounds (as well as 40 rounds) have passed, the purple Mii will try to fool the player(s) by lifting up a sign, then immediately putting it back down, and then lifting a different sign.
Controls
Hold the Wii Remote horizontally.
Press the A, 1, or 2 buttons to get the right sign.
Trivia