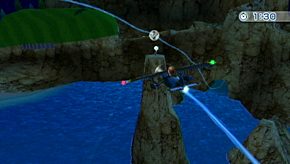 The Needlepoint Spire (Needlepoint Crag) is near the Island Loop Tunnel 1 and all that surrounds it is a few more rocks and the Wuhu Island sea. You can only access this place in Island Flyover and Power Cruising.
Trivia
You can earn the Needlepoint Spire's badge for making 50 edits on IPoints articles.
Island Flyover Information:
Daytime: "This needle-sharp rock juts straight out of the sea."
Evening: "At almost 200 ft. high, It's one of the tallest formations on the island."
Night: "This tall spire doesn't look nearly as forbidding next to Maka Wuhu!"
Community content is available under
CC-BY-SA
unless otherwise noted.