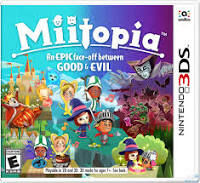 Miitopia[a] is a role-playing video game developed and published by Nintendo for the Nintendo 3DS. The game was released in Japan on the 8th of December 2016 and worldwide on the 28th of July 2017.[1][2]
At the beginning of the game, you create your Mii and you pick from these jobs:
Warrior, Mage, Cleric, Theif, Pop Star, and Chef
When you arrive to Neskdor, you can pick three new jobs:
Scientist, Imp and Cat
In the last world, Realm of Fey, you will have three new and last jobs:
Tank, Princess and Flower.