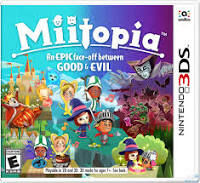 Miitopia[a] is a role-playing video game developed and published by Nintendo for the Nintendo 3DS. The game was released in Japan on December 8th, 2016 and worldwide on July 28th, 2017.[1][2]
At the beginning of the game, you create your Mii and you pick from these jobs:
Scientist, Flower, Clerk, Cat, Princess, Elf, Vampire, Warrior, Chef, Tank, Imp, Pop Star, Thief, Mage, and maid.