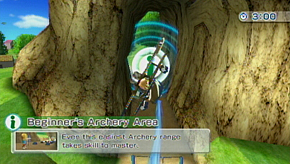 The Beginner's Archery Area is an iPoint in Wii Sports Resort's Island Flyover. It is a tunnel under Talon Rock. It is also the third target course on Beginner Archery. This is one of the hardest I-Points to get to, due to it having a horribly tight entryway for planes.
Trivia
Island Flyover Information:
Daytime: "Even this easiest Archery range takes skill to master."
Evening: "Wind can push the flight of the arrows. Planes probably don't help…"
Night: "Take aim and hold your breath...but not for too long!"
Community content is available under
CC-BY-SA
unless otherwise noted.