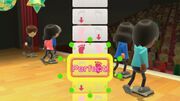 Basic Step is the first step exercise introduced in Wii Fit. To complete it, the player must step on and off the Wii Balance Board in coordination to the on-screen steps. Successfully completing this several times unlocks Advanced Step.
Basic Step - Extra mode has 2 blocks of upcoming step movement obscured.
Steps Introduced
Red Steps: Stepping forwards and backwards.
Blue Steps: Stepping left and right
Trivia
In the PAL version, it is called Step Basics.